What is Feedly?
Before we liked pages on Facebook there was Feedly. With Feedly, you add the websites you like to read and every time that website updates, the new story will appear in Feedly. You can even categorize the websites so that when you want to get caught up on industry news, just click on that category.
Why Use Feedly?
1. If you want to ditch Facebook
I don't like algorithms determining what I read. So, with Feedly, I have collected the sites that I enjoy reading and nobody determines if I can or can not read them
2. If you don't want to sign-up for email newsletters
Most sites use newsletters to update you when they post a new article. I know I do.
But, with Feedly, you can avoid signing up for newsletters if you prefer to keep your inbox clean.
How Do You Sign Up?
1. Sign-up for FREE
Feedly is free unless you need the premium features. You can signup for Feedly by clicking here.
2. Add websites by clicking ADD CONTENT
You can either add new content by clicking the bottom on the bottom left corner:
Here is a link directly on how to add content: https://feedly.com/i/discover
If you want to add this website, Feedly has a button creator. Just click the button below and you can add this website to your Feedly list of sites: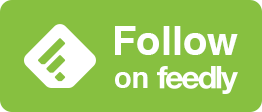 You will then see a screen with my latest articles. Just click the FOLLOW button:
Download the Feedly Websites I Follow
Are you a marketer or interested in marketing? You can download my Feedly file by click here.
Importing a Feedly file
If you already have a Feedly account, after you download my file click here: https://feedly.com/i/cortex
Exporting a Feedly file